Assassin Club

April 14, 2023 (UK)

|

Film Bridge International

|

111 minutes
Directed by:
Camille Delamarre |
Written by:
Thomas Dunn |
Cinematography:
Matthew Chuang |
Editing:
Camille Delamarre, Mickael Dumontier |
Production Design:
Alfonso Rastelli |
Music:
Alexandre Azaria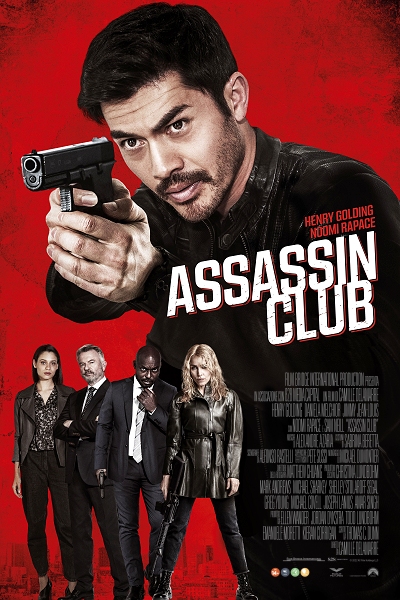 When assassin Morgan Gaines (Henry Golding) is offered a contract to kill seven people, he quickly discovers that his targets are also assassins contracted to kill him. The only way out of the situation is to leave a trail of corpses and find the genius who set the trap for them. Morgan sets out to hunt down the humans, one by one. Meanwhile, the assassins settle on Sophie (Daniela Melchior), Morgan's love interest. They use her as a pawn in their deadly game, forcing Morgan to make an impossible sacrifice: the only way to save her life is to lose his own.
Cast: Henry Golding (Morgan), Daniela Melchior (Sophie), Sam Neill (Caldwell), Noomi Rapace (Falk, Agent Vos), Claudio Del Falco (Ryder), Anastasia Doaga (Jonna), Jimmy Jean-Louis (Inspector Leon), Bruno Bilotta (Lesek), G. Max G. Max (Demir), Khalid Samata (Khalid)
Production Notes
Camille Delamarre's "Assassin Club", based on Thomas Dunn's script about an ambitious endgame of the world's top killers with the premise to serve as a franchise (dream on), was shot in 2021 in Italy and Portugal. Headed by Henry Golding's nice-guy assassin Morgan, who is hired to kill six comptetitive colleagues to save his life and the life of his girlfriend, the film focuses on the action – and nothing else. As we keep traveling from one fight scene to the next, Morgan stays the focal point of a very thin story, with no one else having much to do – except for Sam Neill in an extended cameo playing his contractor, and Noomi Rapace in a botched dual role: She plays top assassin Falk as well as a top ranking Interpol agent who orchestrates most of the story. As well as Golding, her efforts were met with comic relief by most critics. Simon Abrams wrote for Roger Ebert, that Rapace plays her with a "with a head-scratching accent that sounds like a cross between a Southern hick and a Lithuanian cabby."
After being shelved for 1 1/2 years, "Assassin Club" quietly released in a couple of Eastern European countries in January 2023 before a limited theatrical release in the United Kingdom in April 2023 and a wide on-demand release soon after. With no promotion and universally unflattering reviews (Empire Magazine called it "incompetent and mostly just quite boring, it doesn't even have the good grace to be so-bad-it's-good. Rough, rough stuff."), "Assassin Club" ranks very low in all of its talents' filmographies.
---