Noomi Rapace
I always felt like I was going to leave Sweden one day and when I was a kid I was lying to everyone how I was leaving soon. Probably I always felt a bit on my way. But I don't have a dream of being a Hollywood superstar. I want to be an actress, that's all. I don't care if I work on a studio production or a small independent film from Ukraine. All I care about are the characters and the stories. (Noomi Rapace, The New Zealand Herald, December 05, 2010)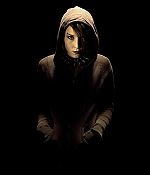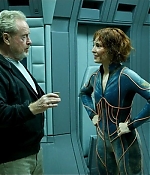 Noomi Rapace at age 18 in the Swedish soap opera "Tre Kronor". As Lisbeth Salander in the "Millennium" trilogy in 2009. With Ridley Scott on the set of 2012's "Prometheus". At the Cannes Film Festival's premiere of "Lamb" in 2021.
Noomi Rapace was born Noomi Norén on 28 December, 1979 in Hudiksvall, Sweden. She studied Drama at the Södra Latin Upper Secondary School in Stockholm and appeared in her motion picture debut in the 1997 film "Sanning Eller Konsekvens" and on television on the soap opera "Tre Kronor" the same year. At Teater Plaza, she had her professional stage debut as Bertha in Thorsten Flinck's production of "The Father". She then worked at the Royal Dramatic Theatre and the Teater Galeasen in Stockholm, where she played the title role of Medea in 2009's "Medealand".
On film, Rapace earned critical acclaim, as well as a Robert and Bodil Award, for her lead performance in "Daisy Diamond". This role led to her being cast as Lisbeth Salander in the big screen adaptations of Stieg Larsson's "Millennium" trilogy, which would premiere in Swedish theaters in 2009. A worldwide critical hit, Rapace won the Swedish Guldbagge Film Award for Best Actress and received nominations for the European Film Award, the BAFTA Film Award and the Critics Choice Movie Award in the same category. For the televsion version of the "Millennium" trilogy, Noomi received a Best Actress nomination for the International Emmy Awards.
The success quickly led to work in Hollywood, where she appeared in Guy Ritchie's "Sherlock Holmes: Game of Shadows" and won the lead part in Ridley Scott's anticipated Alien-prequel "Prometheus". Since then, Rapace has balanced her career between independent features and studio films, appearing as the strong central characters as bodyguards, spies or agents in "Close", on television's "Jack Ryan" and in Michael Apted's "Unlocked". A standout was her performance of seven identical twins in Tommy Wirkola's "What Happened to Monday", leading to a fruitful collaboration with Netflix on various projects, including 2017's "Bright".
In 2021, Rapace won rave reviews for the Icelandic horror film "Lamb", for which she received the Sitges Fantasy Festival's Best Actress prize. For Netflix, she stars in the futuristic thriller "Black Crab" and will be next seen in Sky Atlantic's miniseries "Django".
Noomi Rapace is repped by CAA, Stella Härnström, Narrative and Hirsh Wallerstein Hayum Matlof & Fishman.