2012 has been a busy year for Noomi – and a very important one for her international career with her first leading role in an anticpated US production to emerge. But first, there was a theatrical release of "Babycall", a thriller Noomi had done in Denmark in 2011. Although it was released already in the Nordic countries, the film released UK theaters in March 2012. The same month, Noomi started shooting "Passion" in Berlin with director Brian DePalma. The project was met with much interest due to its director and the premise of Noomi and Rachel McAdams playing the lead roles in an erotic mysterious thriller. Also in March, the trailer for "Prometheus" was launched – the film that would dominate Noomi's year throughout. The trailer was accompanied by a lenghty article in Britain's Empire Magazine, featuring Noomi – in character as Elizabeth Shaw – as their cover girl. An early premiere for "Prometheus" was held in Paris on April 10, with director Ridley Scott and the cast, including Michael Fassbender and Charlie Theron in attendance. More eagerly anticipated material for the film was released in April with a first featurette and lots of behind-the-scenes footage. In May, the "Prometheus" trio of Rapace, Fassbender and Theron graced the cover of the US Entertainment Weekly with another insightful article of the film, treated as one of the biggest Summer films of the year.
Noomi's most recent Nordic film, "Babycall", released European theaters in early 2012. She spent most of March and April in Berlin, shooting Brian De Palma's "Passion". With Ridley Scott on the set of "Prometheus". Gracing the covers of Empire Magazine and Entertainment Weekly.
On May 31th, the film celebrated its UK launch with a much covered premiere in London. The promotional tour for "Prometheus" continued in the USA, where Noomi was interviewed on The Today Show as well as on Late Night with David Letterman, talking about the shooting of the film and her childhood in Iceland. On June 08, the day of the film's US release, Noomi and Michael Fassbender sat down with Charlie Rose to talk about the film. While the anticipation was not able to bear a new "Alien", the critics enjoyed the film. Richard Roeper called the film "Brilliant. Epic. Haunting. Grotesque. Great." New York Magazine wrote about Noomi, "Misused in the last (lousy) Sherlock Holmes picture, the Swedish actress is a charming English-language heroine, not too hard, not too soft, just tremulous enough to make her ultimate resourcefulness a happy surprise". The Washington Post called Rapace's character "one of the movie's most nuanced characters". And the review by the Globe and Mail mirrored what many critics and audience members thought of "Prometheus": "There's definite mastery here, but it's hardly a masterpiece." "Prometheus" scored a solid 126.5M in US theaters, a sequel was announced shortly after.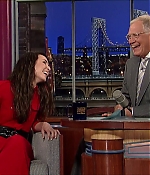 Noomi was busy during the Summer promoting "Prometheus". She attended the premieres for the film in Paris and London (pictured with Charlize Theron) and was a guest on the television shows "The Today Show" and "Late Night with David Letterman". The role of Elizabeth Shaw in "Prometheus" proved to become her most prominent character since Lisbeth Salander.
Noomi's schedule remained busy. After finishing "Passion" in Berlin, she traveled to Philadelphia for the shooting of "Dead Man Down". Directed by Niels Arden Oplev, who previously helmed the Swedish "The Girl with the Dragon Tattoo", the thriller centers on a professional killer, played by Colin Farrell, who is seduced and blackmailed by a crime victim seeking retribution, played by Noomi Rapace. The first pictures from the set, released in late June, showed Noomi's character wandering around the streets of Philadelphia with a scarred face. The actress spent most of June and July in Philadelphia for the film, which received a US theatrical release for March 08, 2013. In August 2012, Noomi attended the Amandaprisen – the Nordic Film Awards – where she was awarded Best Actress for her performance in "Babycall". Also in August, a first trailer for "Passion" released, just in time for the film's world-premiere at the Venice Film Festival. On September 7, Noomi and Brian De Palma were on hand to talk about the film and attended various events at the Lido. The first reviews for the film were rather lukewarm, but critics found the pairing of Rachel McAdams and Noomi Rapace promising for the film's upcoming international reception. Variety wrote, that Rapace "provides an energetic counterweight [to McAdams], lending her more naive but also more unpredictable Isabelle an edge of dark desperation." "Passion" was also shown at the New York Film Festival as well as the Toronto Film Festival and will release theatrically in Europe early next year.
During the Summer of 2012, Noomi reteamed with "Dragon Tattoo" director Niels Arden Oplev to shoot "Dead Man Down" in Philadelphia. At the Amandaprisen, she won Best Actress for "Babycall". During the Venice Film Festival, she promoted the world-premiere of "Passion" with director Brian De Palma. In the film (pictured), Noomi stars alongside Rachel McAdams.
November featured a surprise for music and film fans – the release of the Rolling Stones' new single "Doom and Gloom", accompanied by a mind-blowing music video, directed by Jonas Akerlund and starring Noomi Rapace. The video revolves around the seven deadly sins. Noomi Rapace rolls around in money which represents greed, she eats fast food until her head explodes which represents gluttony, and she lays around in bed which represents sloth. Between shots of Rapace there are scenes of the band performing "Doom and Gloom" in an abandoned building. The music video received widespread recognition and discussion around the blogosphere, mostly because of Noomi's provocative scenes. In December, Noomi was seen out and about in London, where she currently resides, attending the British Independent Film Awards and the English National Ballet Christmas Party. She told the London Evening Standard, "I shot two films here recently and just fell in love with the city, it's so beautiful here. And it makes sense for me because I work here a lot, and it's closer to LA. I didn't speak a word of English and never had a dialect coach or anything. I just watched a lot of TV and tried to pick it up from there. But I do have to work on my accent, I pick up a lot of strange ones. When I was working with Colin Farrell and was talking to him, I really had to go and clear my head otherwise I'd sound like an Irishman." It was also announced in late December that Noomi and Tom Hardy (with whom she covered Blag Magazine's anniversary issue this year) would join the screen adaptation of Dennis Lehane's short story "Animal Rescue", although no official statement has been made for now.
Noomi's got the moves like Jagger in the Rolling Stones' music video "Doom and Gloom", performing an array of characters to portray the seven deadly sins. She has become a fixture on the London scene as well, attending many film festival and premiere events, such as the London Film Festival, the British Independent Film Awards and the English National Ballet Christmas Party with Tom Hardy.
Personally, there have been two highlights this year for Noomi (I think it was an amazing year throughout, but you remember the standouts): First, there was "Prometheus". To me, it was just the great film I had expected. Many have expressed their love towards the film but some kind of disappointment it didn't turn out to be as good or iconic as "Alien". But then, no film can compared to classics, "Prometheus" felt like the best it could have been and it wasn't until the very end of it that I realised what an amazing chance Noomi has received for her career, not only leading this film but becoming its star and the face of its franchise (together with Michael Fassbender). To achieve such faim in international film within two years is astonishing. The second standout has been the Rolling Stones video – maybe because music videos aren't as popular or as prominently featured as they were years ago. It was stunning to see Noomi not only rock with Mick Jagger, but in all the different ideas and scenes by director Jonas Akerlund to represent the song's lyrics and message. It might "only" be a music video, but the fact that the Rolling Stones worked with Noomi (or the other way around) with such an amazin result deserves a special mention in her professional career of 2012.