January 21st, 2018 Posted by Frederik
Noomi Rapace is back at the Paris Fashion Week – its become an almost annual tradition for her to be part of the circuit every January. She has attended the Dior Homme runway. Pictures have been added to the photo gallery.
January 20th, 2018 Posted by Frederik
H&M has announced that it will be launching a new brand in early 2018. Called Nyden, a hybrid of the Swedish words for 'new' and 'it', the line will be led by Oscar Olsson, who has worked at H&M since 2013. During this time, he became head of the company's Innovation Lab where sociology, market research and philosophy were used to determine the future of fashion and how people will shop in years to come, The Cut reports. The result? An affordable luxury label that will specifically target millennial customers. Unlike other brands, Nyden will seek to differentiate itself from the mainstream by overlooking the traditional fashion calendar and trends, instead enlisting the help of selected 'tribe leaders', or influencers to co-create clothing. The first of these collaborations will see the brand work with tattoo artist Doctor Woo and Swedish actress Noomi Rapace. While very little is known about the launch just yet, we do know that the clothes will be available to shop online and at immersive pop-up events, while price points will vary depending on the product.
January 13th, 2018 Posted by Frederik
Happy New Year everybody! I completely missed that Noomi has attended the Astrid Andersen runway at London Fashion Week's Men last week. Many thanks to Marinka for bringing it to my attention. Also, there's a new interview with Noomi in the Indian edition of The Telegraph and a review page on "Bright" in the February issue of Empire Magazine.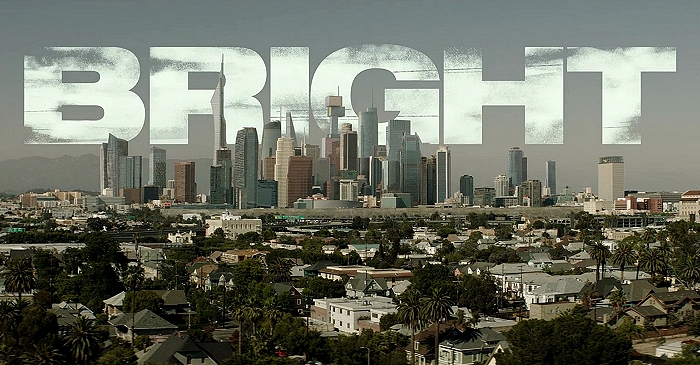 December 29th, 2017 Posted by Frederik
"Bright" has been released worldwide on December 22 on Netflix, and yes, it was just as disappointing as the critics have written. I didn't find the acting any bad, it's what you expect to get from a cop/orcs/elves movie (and you have Joel Edgerton, Edgar Ramirez and Noomi Rapace). It was rather a surprisingly, shockingly thin story line. "Bright" feels like a tv pilot with overtime for something that Will Smith should have done 20 years ago. Both Smith and Edgerton are given so little to work with, Noomi was given even less with her dialogue consisting of only a bit of Elvish :-) Her character could have been credited among the stunt people just as well. And yet, I feel like "Bright" could deserve a second watch, there has to be more to Netflix' biggest foray into motion pictures. There has to be. Screencaptures from the film have been added to the photo gallery, alongside additional pictures from the promotional tours in London, Mumbai and Tokyo – including a fantastic new photoshoot from the time during her Tokyo visit. Many thanks to Marika for all the heads-up. Enjoy the new additions.
December 21st, 2017 Posted by Frederik
Yes, I came up with that headline myself :-) According to the reviews collection assembled on Entertainment Weekly, Netflix's first foray into original blockbusters has gotten a rude welcome, with reviews branding director David Ayer's fantasy film as "embarrassing," a "disaster," and "the worst movie of 2017." "Astoundingly bad in virtually every way," writes The Wrap's Todd Gilchrist, "Bright shares in common several of the shortcomings of Ayer's previous film [Suicide Squad], including conspicuous evidence of desperate efforts to cobble its under-explained and yet somehow overcomplicated mythology into something coherent."
Todd Gilchrist (The Wrap)
"Even Will Smith's irrepressible charisma can't compete with the unrelentingly muddy production design, the poorly conceived characters and a profoundly stupid racial metaphor that somehow amplifies stereotypes of actual ethnic groups. The result is another genre disaster that's only impressive in how arrogantly the filmmakers presume audiences will want it to be expanded into a franchise."
John DeFore (The Hollywood Reporter)
"Alas, the finished product, though plenty embarrassing, isn't quite involving enough to merit the kind of pile-on mockery that greeted Ayer's DC Comics abomination Suicide Squad. Stars Will Smith and Joel Edgerton play it mostly straight here, doing their part to sell the dopey premise, but the screenplay offers viewers little reward for our own suspension of disbelief. Rumored to be the most expensive Netflix original film to date, the pic may well attract eyeballs on the streaming outlet. But its potential as a franchise-starter is laughably small."
Peter Debruge (Variety)
"Bright is the best Netflix original movie to date, and it absolutely deserves to be seen on the big screen, though don't let that stop you from watching it home, as End of Watch director David Ayer's welcome return to the cop-movie genre – following a disastrous wrong turn into Suicide Squad territory, of which we will say no more – fills an intense, grown-up movie niche that Hollywood once did so well, but has since replaced with formula-driven product."
You can read more reviews on "Bright" over at Entertainment Weekly and make your own opinion tomorrow, when "Bright" releases on Netflix.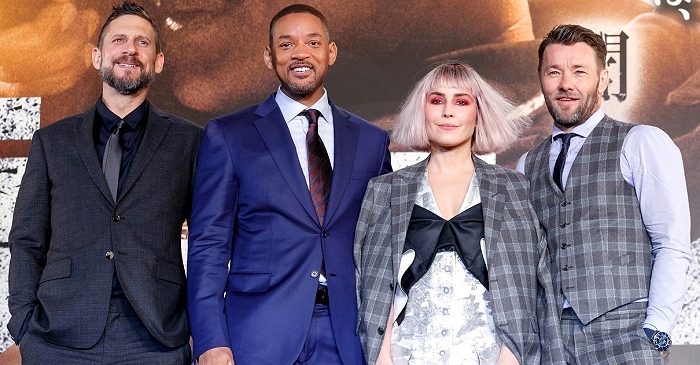 December 20th, 2017 Posted by Frederik
"Bright" is receiving the royal treatment from Netflix right now. After stints in Los Angeles, London and Mumbai, the "Bright" crew has now attended the film's premiere in Tokyo, Japan. Pictures from the event have been added to the photo gallery. Edit: Pictures from the press conference have been added as well.
December 19th, 2017 Posted by Frederik
On Monday, Will Smith, Joel Edgerton and Noomi Rapace made a surprise appearance at the Mumbai premiere for "Bright". Pictures have been added to the photo gallery. You'll also find a press junket interview with Noomi in the video archive.