April 21st, 2018 Posted by Frederik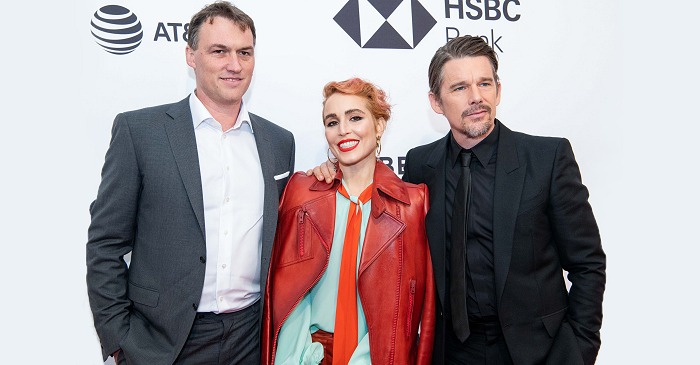 On Thursday, Noomi Rapace and Ethan Hawke have attended the Tribeca Film Festival alongside director Robert Budreau to celebrate the world-premiere of "Stockholm." So far, only The Hollywood Reporter has posted a review, so let's wait for more to drop. In the meantime, lots of pictures from the premiere have been added to the photo gallery with many thanks to Joan for sending them in. Edit: More reviews have been added, and it's great to see good reviews for the film and especially praise for Noomi's performance!
The Hollywood Reporter, John De Fore (April 19, 2018)
As the hostage who will come to most closely identify with the outlaws, Rapace has the film's biggest job. She's not so insensitive as to make it look easy. Bianca is married with two young children, and, judging solely from Rapace's mien, harbors no fantasies about running away with a rogue. But she notices every thing Lars does to make this ordeal easier for her, sees how he is subtly disrespected by the man he's trying to rescue, and, late in the plot, realizes Lars is the same criminal who once saved the life of an old man while robbing his house. And just as important, Bianca is allowed a few bits of contact with her husband (one of which is a nervously comic highlight), and that decent, frightened man lets her down in banal but telling ways.
Variety, Owen Gleiberman (April 21, 2018)
Enough filmmakers have nailed the early '70s that even if you didn't live through it, you can tell when a movie misses the era. In "Stockholm," the hair and clothes are accurate in a costume-shop way, but the atmosphere is too slick and bright and punchy. The one performer with the right desultory presence is Noomi Rapace, under big glasses and long straight sandy blonde hair held back in a bun. Her Bianca just wants to stay alive and get home to her two children. The question is, what's her best strategy?
Slash Film, Hoai-Tran Bui (April 21, 2018)
The movie goes out of its way to convince us that Lars is a sympathetic character, flying into a panic over his hostages' well-being as often as he flies into a rage. In another person's hands, Lars would have probably veered toward comic relief or even mentally disabled, but this incompetent, outrageous robber is given pathos by Hawke's no-holds-barred performance. He's supported by a revelatory turn by Rapace, who lends a quiet strength to Bianca, and Mark Strong's stoic straight man.
March 8th, 2018 Posted by Frederik
Even more pictures from this week's Paris Fashion Week. Noomi Rapace and Edgar Ramirez have been spotted at the Louis Vuitton runway. Check the photo gallery for more pictures.
January 21st, 2018 Posted by Frederik
Noomi Rapace is back at the Paris Fashion Week – its become an almost annual tradition for her to be part of the circuit every January. She has attended the Dior Homme runway. Pictures have been added to the photo gallery.
January 13th, 2018 Posted by Frederik
Happy New Year everybody! I completely missed that Noomi has attended the Astrid Andersen runway at London Fashion Week's Men last week. Many thanks to Marinka for bringing it to my attention. Also, there's a new interview with Noomi in the Indian edition of The Telegraph and a review page on "Bright" in the February issue of Empire Magazine.
December 20th, 2017 Posted by Frederik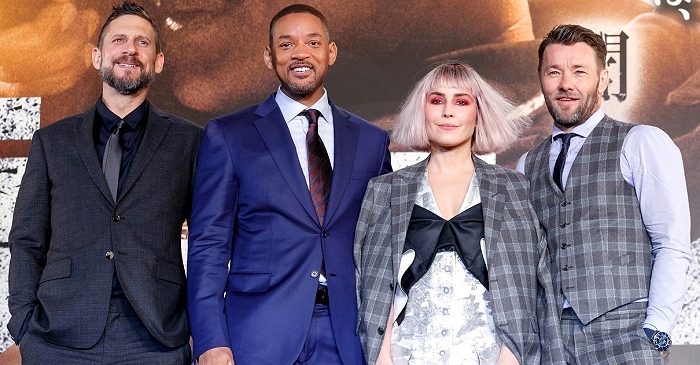 "Bright" is receiving the royal treatment from Netflix right now. After stints in Los Angeles, London and Mumbai, the "Bright" crew has now attended the film's premiere in Tokyo, Japan. Pictures from the event have been added to the photo gallery. Edit: Pictures from the press conference have been added as well.