April 21st, 2018 Posted by Frederik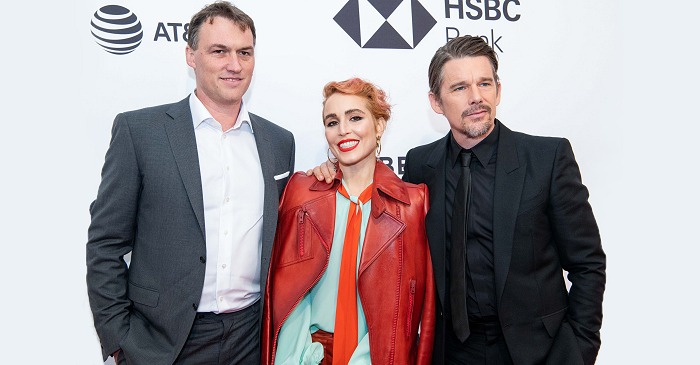 On Thursday, Noomi Rapace and Ethan Hawke have attended the Tribeca Film Festival alongside director Robert Budreau to celebrate the world-premiere of "Stockholm." So far, only The Hollywood Reporter has posted a review, so let's wait for more to drop. In the meantime, lots of pictures from the premiere have been added to the photo gallery with many thanks to Joan for sending them in. Edit: More reviews have been added, and it's great to see good reviews for the film and especially praise for Noomi's performance!
The Hollywood Reporter, John De Fore (April 19, 2018)
As the hostage who will come to most closely identify with the outlaws, Rapace has the film's biggest job. She's not so insensitive as to make it look easy. Bianca is married with two young children, and, judging solely from Rapace's mien, harbors no fantasies about running away with a rogue. But she notices every thing Lars does to make this ordeal easier for her, sees how he is subtly disrespected by the man he's trying to rescue, and, late in the plot, realizes Lars is the same criminal who once saved the life of an old man while robbing his house. And just as important, Bianca is allowed a few bits of contact with her husband (one of which is a nervously comic highlight), and that decent, frightened man lets her down in banal but telling ways.
Variety, Owen Gleiberman (April 21, 2018)
Enough filmmakers have nailed the early '70s that even if you didn't live through it, you can tell when a movie misses the era. In "Stockholm," the hair and clothes are accurate in a costume-shop way, but the atmosphere is too slick and bright and punchy. The one performer with the right desultory presence is Noomi Rapace, under big glasses and long straight sandy blonde hair held back in a bun. Her Bianca just wants to stay alive and get home to her two children. The question is, what's her best strategy?
Slash Film, Hoai-Tran Bui (April 21, 2018)
The movie goes out of its way to convince us that Lars is a sympathetic character, flying into a panic over his hostages' well-being as often as he flies into a rage. In another person's hands, Lars would have probably veered toward comic relief or even mentally disabled, but this incompetent, outrageous robber is given pathos by Hawke's no-holds-barred performance. He's supported by a revelatory turn by Rapace, who lends a quiet strength to Bianca, and Mark Strong's stoic straight man.
April 19th, 2018 Posted by Frederik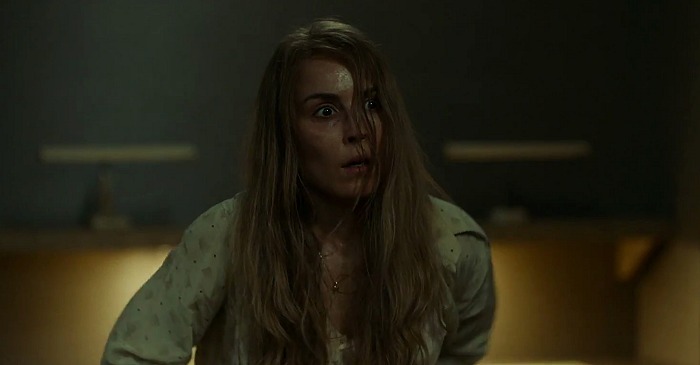 "Stockholm" will have its world-premiere today at the Tribeca Film Festival. Directed by Robert Burdreau, the film is based on a 1973 bank heist and hostage crisis that was documented a year later in a New Yorker article titled "The Bank Drama" by Daniel Lang. Lars Nystrom (Hawke) dons a disguise to raid a central Stockholm bank. He then takes hostages, one of them being Bianca (Noomi Rapace), a wife and mother of two, in order to spring his pal Gunnar (Mark Strong) from prison. Negotiations with detectives come to a halt when the police refuse to let Lars leave in a getaway car with the hostages. As hours turn into days, Lars alternates between threatening the hostages and making them feel comfortable and secure. The hostages develop an uneasy relationship with their captor, which is particularly complex for Bianca, who develops a strong bond with Lars as she witnesses his caring nature. The Bianca-Lars relationship gives rise to the psychological phenomenon known as "Stockholm Syndrome" — hence the title of the film. Make sure to check back for reviews tomorrow.
March 9th, 2018 Posted by Frederik
Netflix has acquired the distribution rights to the upcoming action movie "Close", starring Noomi Rapace, according to a report by Variety. The thriller picture focuses on Rapace as Sam, described by the movie's logline as "the world's toughest female bodyguard", one of the few elite operators in the male-dominated field of close protection. Assigned to keep a young billionaire heiress safe from harm during a cushy visit to Morocco, Sam at first thinks the worst thing she'll have to deal with is her client's lousy attitude. But when the party comes under attack by unknown assailants and the two get framed for murder, they're forced to work together if they want to make it out alive and clear their names. The movie is loosely based on the professional life of Jacquie Davis, one of the world's most high-profile female bodyguards. The script was written by Rupert Whitaker, Jason Newmark, and Vicky Jewson. Close is directed by Vicky Jewson, who previously directed the movies Lady Godiva and Born of War. In addition to Rapace in the lead role, the movie stars Sophie NĂ©lisse as the heiress, Zoe, Eoin Macken as Sam's former partner Conall, and Indira Varma as Zoe's stepmother. The film is currently in post-production; no release date has yet been announced.
March 8th, 2018 Posted by Frederik
The Tribeca Film Festival is now going into its 17th year, and while it still doesn't command the respect of a Sundance or Cannes or Toronto, it's certainly been able to find its identity in recent years. This April, the Noomi Rapace-starring "Stockholm" will have its world-premiere at the festival. A definite date has not been set – the festival runs from April 18-29. A new production still featuring Ethan Hawke and Noomi Rapace has been added to the photo gallery. Many thanks to Marinka for the heads-up.
Stockholm, directed and written by Robert Budreau. Produced by Nicholas Tabarrok, Robert Budreau, Jonathan Bronfman. (Canada, Sweden, USA) – World Premiere. In 1973, an unhinged American outlaw walked into a bank in Sweden demanding millions in cash in exchange for his hostages. The events that followed would capture the attention of the world and ultimately give a name to a new psychological phenomenon: Stockholm syndrome. With Ethan Hawke, Noomi Rapace, Mark Strong, Christopher Heyerdahl, Bea Santos, Thorbjorn Harr.
February 6th, 2018 Posted by Frederik
According to Inside Film, director Kim Farrant's new film, "Angel of Mine", will kick off production in Melbourne in April with Noomi Rapace to star. Adapted by "Lion" scribe Luke Davies and David Regal from the 2008 French film "L'Empreinte de L'Ange", "Angel of Mine" follows a mother who, in struggling to cope with the loss of her daughter, becomes convinced a stranger's daughter is her own. As her obsession grows, she becomes more and more entwined in the girl's life and loses touch with reality. "What I love about this beautiful script (apart from the insanely brilliant Noomi) is that it's about intuition. We all know what it's like to know something deep in our bones and yet fall into the trap of doubting ourselves, and that questioning can drive us crazy," said Farrant. "Kim Farrant is an exceptionally talented director who displayed her interest in exploring themes around motherhood and grief with her debut Strangerland," said Screen Australia head of production Sally Caplan. "Angel of Mine is an incredible opportunity for her to establish herself internationally – directing a script by screenwriter of the moment Luke Davies, and top tier actor Noomi Rapace. This, in addition to the significant marketplace support from Fortitude and Becker, bodes well for the success of this film and the future of Kim's career."
January 20th, 2018 Posted by Frederik
H&M has announced that it will be launching a new brand in early 2018. Called Nyden, a hybrid of the Swedish words for 'new' and 'it', the line will be led by Oscar Olsson, who has worked at H&M since 2013. During this time, he became head of the company's Innovation Lab where sociology, market research and philosophy were used to determine the future of fashion and how people will shop in years to come, The Cut reports. The result? An affordable luxury label that will specifically target millennial customers. Unlike other brands, Nyden will seek to differentiate itself from the mainstream by overlooking the traditional fashion calendar and trends, instead enlisting the help of selected 'tribe leaders', or influencers to co-create clothing. The first of these collaborations will see the brand work with tattoo artist Doctor Woo and Swedish actress Noomi Rapace. While very little is known about the launch just yet, we do know that the clothes will be available to shop online and at immersive pop-up events, while price points will vary depending on the product.
December 29th, 2017 Posted by Frederik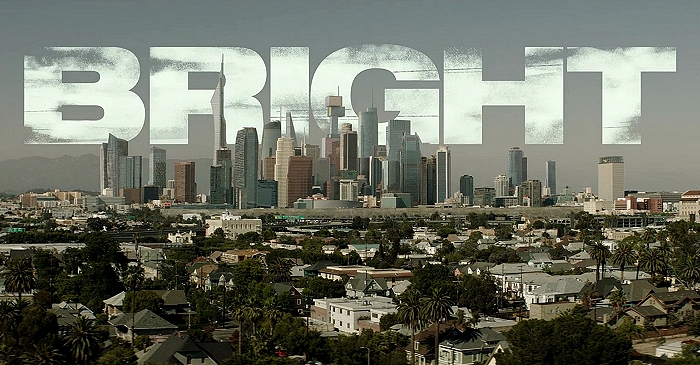 "Bright" has been released worldwide on December 22 on Netflix, and yes, it was just as disappointing as the critics have written. I didn't find the acting any bad, it's what you expect to get from a cop/orcs/elves movie (and you have Joel Edgerton, Edgar Ramirez and Noomi Rapace). It was rather a surprisingly, shockingly thin story line. "Bright" feels like a tv pilot with overtime for something that Will Smith should have done 20 years ago. Both Smith and Edgerton are given so little to work with, Noomi was given even less with her dialogue consisting of only a bit of Elvish :-) Her character could have been credited among the stunt people just as well. And yet, I feel like "Bright" could deserve a second watch, there has to be more to Netflix' biggest foray into motion pictures. There has to be. Screencaptures from the film have been added to the photo gallery, alongside additional pictures from the promotional tours in London, Mumbai and Tokyo – including a fantastic new photoshoot from the time during her Tokyo visit. Many thanks to Marika for all the heads-up. Enjoy the new additions.