March 8th, 2018 Posted by Frederik
The Tribeca Film Festival is now going into its 17th year, and while it still doesn't command the respect of a Sundance or Cannes or Toronto, it's certainly been able to find its identity in recent years. This April, the Noomi Rapace-starring "Stockholm" will have its world-premiere at the festival. A definite date has not been set – the festival runs from April 18-29. A new production still featuring Ethan Hawke and Noomi Rapace has been added to the photo gallery. Many thanks to Marinka for the heads-up.
Stockholm, directed and written by Robert Budreau. Produced by Nicholas Tabarrok, Robert Budreau, Jonathan Bronfman. (Canada, Sweden, USA) – World Premiere. In 1973, an unhinged American outlaw walked into a bank in Sweden demanding millions in cash in exchange for his hostages. The events that followed would capture the attention of the world and ultimately give a name to a new psychological phenomenon: Stockholm syndrome. With Ethan Hawke, Noomi Rapace, Mark Strong, Christopher Heyerdahl, Bea Santos, Thorbjorn Harr.
March 3rd, 2018 Posted by Frederik
Noomi was a surprise guest – and a vision in white – at yesterday's 43rd Annual CĂ©sar Film Awards in Paris. Together with Lucien Jean-Baptist, she took the stage to present the CĂ©sar for Best Original Screenplay to Robin Campillo. Pictures from the arrivals and the show have been added to the photo gallery, a segment of her presentation has been added to the video archive. Enjoy.
Photo Gallery – Public Appearances – 2018 – 43rd Annual CĂ©sar Film Awards – Arrivals
Photo Gallery – Public Appearances – 2018 – 43rd Annual CĂ©sar Film Awards – Show
Photo Gallery – Public Appearances – 2018 – 43rd Annual CĂ©sar Film Awards – Screencaptures
December 29th, 2017 Posted by Frederik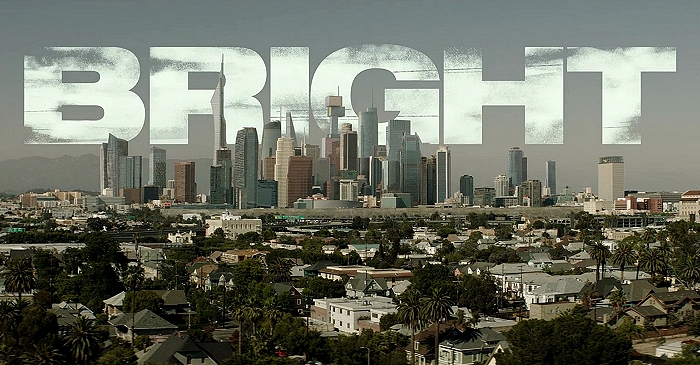 "Bright" has been released worldwide on December 22 on Netflix, and yes, it was just as disappointing as the critics have written. I didn't find the acting any bad, it's what you expect to get from a cop/orcs/elves movie (and you have Joel Edgerton, Edgar Ramirez and Noomi Rapace). It was rather a surprisingly, shockingly thin story line. "Bright" feels like a tv pilot with overtime for something that Will Smith should have done 20 years ago. Both Smith and Edgerton are given so little to work with, Noomi was given even less with her dialogue consisting of only a bit of Elvish :-) Her character could have been credited among the stunt people just as well. And yet, I feel like "Bright" could deserve a second watch, there has to be more to Netflix' biggest foray into motion pictures. There has to be. Screencaptures from the film have been added to the photo gallery, alongside additional pictures from the promotional tours in London, Mumbai and Tokyo – including a fantastic new photoshoot from the time during her Tokyo visit. Many thanks to Marika for all the heads-up. Enjoy the new additions.
December 20th, 2017 Posted by Frederik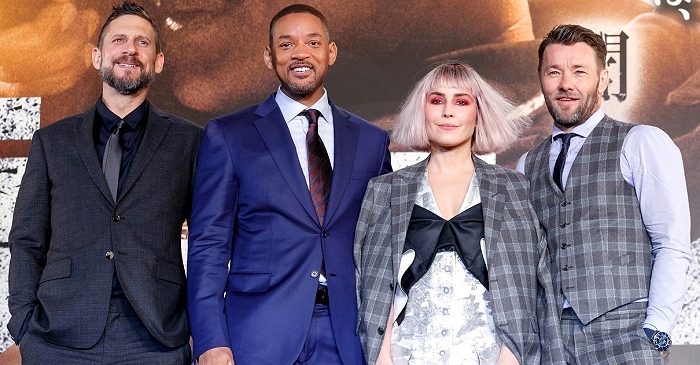 "Bright" is receiving the royal treatment from Netflix right now. After stints in Los Angeles, London and Mumbai, the "Bright" crew has now attended the film's premiere in Tokyo, Japan. Pictures from the event have been added to the photo gallery. Edit: Pictures from the press conference have been added as well.
December 19th, 2017 Posted by Frederik
On Monday, Will Smith, Joel Edgerton and Noomi Rapace made a surprise appearance at the Mumbai premiere for "Bright". Pictures have been added to the photo gallery. You'll also find a press junket interview with Noomi in the video archive.
December 16th, 2017 Posted by Frederik
Hollywood's "Bright" stars dazzled all their way at yesterday's London premiere of the upcoming action and thriller cinematic. The event had it all for the fans, massive autographs and photo shoot where the "Bright"'s crew showed up, including stars Joel Edgerton, Noomi Rapace and Lucy Fry. The co-production of Max Landis and David Ayer is one massive cinematic already awaited in the must watch list of action films, expected to kick off release in cinemas on Friday, December 22. Pictures from the premiere have been added to the photo gallery.
December 16th, 2017 Posted by Frederik
Article and pictures courtesy Vogue and Astrid Andersen: When an interview ends with you strapped into Noomi Rapace's new top-of-the-line Audi as she bounces behind the wheel to top-volume Cardi B, then accelerates up Ladbroke Grove faster than anything out of North Korea, well, it's been an awesome assignment. And when Vogue was invited to lunch with the Swedish-born actress (the original Lisbeth Salander!) and the Danish-born designer Astrid Andersen, that's exactly how things ended up. But before we hit the road—Andersen and Rapace up front, singing and whooping as we went full throttle, me in the back, trying not to toss my salad—there was much to discuss. Royal College of Art–trained Andersen founded her menswear label in 2010, and last year started showing womenswear, too. She and Rapace didn't meet all that long ago, but have since become firm friends. So for Spring 2018, Rapace volunteered to model Andersen's collection (the women's, with a sprinkling of men's) in a shoot masterminded at the actress's London house. That seemed like a perfect reason to meet, eat, and listen in on these two besties discussing friendship, clothes, first boyfriends, and plenty more besides. What follows is an edited record of a conversation in which, just like that hair-raising drive afterward, Vogue was very much in the back seat.
If you do something that you're forced into, or you're eye candy for someone, or you dress for someone else and you don't feel comfortable, well, you don't feel empowered and you don't feel free. If you can't dance in it, you can't move in it, you can't feel your energy and your charisma flowing, that is wrong. But if you wear something that you can move in and that makes you grow, you can come into any room and be like: Boom, here I am! You know, I never thought I would be comfortable in some places. I come from a farm and I come from no money. I didn't even speak English seven and a half years ago. So I have to go on my intuition all the time. And I think that Astrid is very much the same; you have to go on your gut feeling.